Find yourself in the wilderness
Like a fine wine paired with the right meal, yoga is the perfect complement to a spectacular day spent hiking in the mountains.
Join me on a retreat at Purcell Mountain Lodge – a remote, helicopter accessed backcountry lodge near Golden, BC. A typical day includes 2 yoga classes, 3 nutritious meals, snacks and appetizers, a full day exploring in the mountains, shared accommodation and time for enjoying a glass of wine and reading your favourite book. The retreat you've been craving.
This Lodge is so fabulous we're offering a second trip in the Fall of 2018! Reserve your spot soon, this trip sells out fast!
| Date - 2 Trips in 2018 | Rate |
| --- | --- |
| August 17th - 20th - 4 day | $1550 plus GST |
| September 10th - 14th - 5 day Deluxe Edition | $1850 plus GST |
---
Retreat Features
Back to basics, with all the trimmings
Yoga Classes
Complementing the physical exertion of hiking, yoga brings clarity of mind and body at high altitude. You will use this retreat to focus on yourself and your practice.
Guided Hiking
See sights you've never seen in places you've never been, and do it all in the company of kindred spirits. Enjoy the mountains at a slower pace with personally guided hiking daily.
Gourmet Catering
All meals are provided, and special dietary requirements are catered for. You'll love the fresh ingredients and creative tastes from our kitchen among the clouds.
---
Amazing Accommodation
A luxurious remote backcountry location - Purcell Mountain Lodge near Golden, BC. A truly unique and unforgettable mountain experience.
Professional Instruction
Beth Purser is an ACMG certified hiking guide and RYT-500 yoga teacher. Her goal is to connect you with new friends and make memories to last a lifetime.
Return Flight
Helicopter flights are included in and out of Purcell Lodge; you'll enjoy incredible alpine scenery all the way.
---
Purcell Mountain Lodge
Purcell Mountain Lodge is perched at 2200 meters (7200') amidst the alpine slopes of Bald Mountain in the northern Purcell mountains.
This luxury backcountry lodge located near Golden British Columbia has been operating since 1990.
All rooms come with mountain views that are guaranteed to inspire and refresh. Luxury in the backcountry is complete with an open dining area, cozy living room, cedar wood burning sauna, quiet library, entertaining traditional board games and puzzles, and a wood burning fireplace.
Incredible Catering
All meals are included, and prepared with love in the lodge's commercial kitchen.
You'll discover a wide variety of delicious meals, prepared with seasonal, exotic and locally-sourced ingredients.
All dietary preferences are catered for, and your meals will be packed with goodness to sustain your high-altitude activities.
Daily Itinerary
You'll fall in love with this routine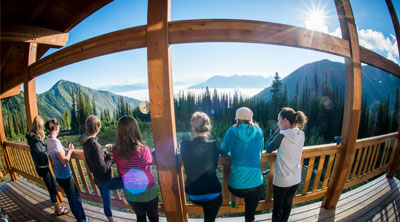 6:30 - 7:00 AM
Kick-start your metabolism early with coffee and a selection of smoothies and fruit while enjoying the alpine sunrise.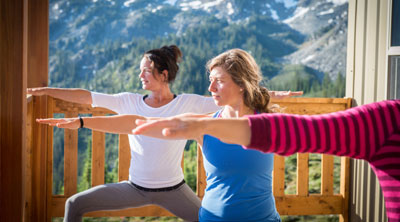 7:15 AM
Ease into the morning with a gentle Yoga Flow class to warm up your muscles for the active day ahead.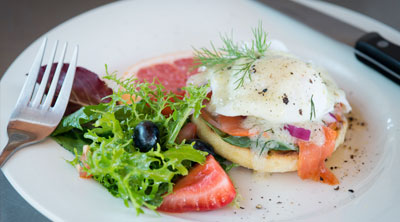 8:30 AM
Fuel up with a nutritious and delicious breakfast. Meals vary from day to day, but delicious comes standard.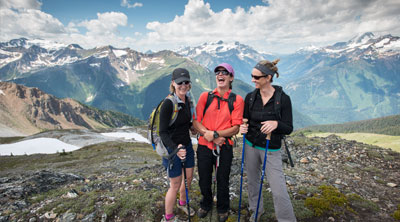 9:30 AM
Strap your hiking boots on and head out for a day of exploring the stunning alpine environment with lunch included. What will you see today?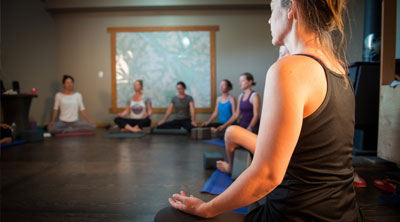 4:00 PM
Return to Purcell Lodge, stretch weary muscles with an afternoon Yoga practice before or after dinner and unwind with a spell in the sauna.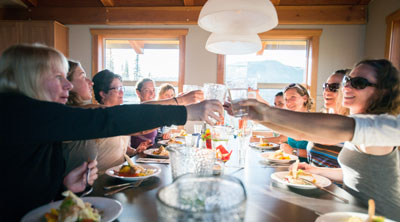 6:00 PM
Relax among new and old friends and enjoy a delicious, fresh dinner to refuel you after a full day of fun.
I look forward to showing you all that the mountains have to offer.